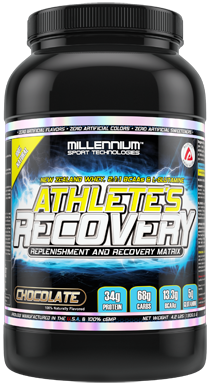 Product Details
ATHLETE'S-RECOVERY™
Replenishment & Recovery Matrix
with New Zealand Whey
Scientific research reveals that nutrient ratios and timing are equally important to maximizing  recovery efforts and achieving your performance goals.  ATHLETE'S-RECOVERY™ is specifically formulated to meet these precise, nutritional replenishment needs.*    
ATHLETE'S-RECOVERY™ is a clean, post workout, recovery and replenishment matrix, utilizing the scientifically proven 2:1 carbohydrate to protein ratio. We've combined the cleanest protein available (New Zealand Whey) to provide instant amino acid delivery, for optimal muscle recovery and synthesis, with a precise blend of simple sugar (dextrose/glucose) and rapid releasing glucose polymers in the form of Glucidex® (Non-GMO Potato Maltodextrin) to rapidly stimulate and replenish muscle glycogen levels.*  
Each two (2) scoop serving of ATHLETE'S-RECOVERY™ also contains 5 grams of added AjiPure® L-Glutamine (plant derived and fermented) and 13.3 grams of BCAAs (naturally occurring and 5 grams of added, instantized BCAAs in the scientifically proven 2:1:1 ratio)
The Breakdown! (2 scoops)
• 34g of Protein – All From New Zealand Whey!
• 68g of Rapid Replenishing Carbs
• 13.3g of Total BCAAs  
• 5g of Added AjiPure L-Glutamine (plant derived)
• 21g Essential Amino Acids
• Zero Artificial Flavors, Colors or Sweeteners
• Zero Sucrose or Fructose
• 100% Natural & Tested Gluten Free
Why New Zealand Whey?
Zero Hormones!
Dairy management systems in New Zealand prohibit the use of hormones. 
Zero Antibiotics!
The use of antibiotics is illegal in the New Zealand dairy industry and the MAF requires a screening test for antibiotic residues.  
Free Range and Grass Fed!
Dairy cows in New Zealand are free range and subsist on high-quality rye grass and white clover pasture virtually year round.  This ensures optimal vitamin, mineral, enzyme and probiotic ingestion, creating a happy heifer and premium whey product.
New Zealand Whey Overview!
New Zealand dairies are held to some of the most stringent standards in the world! In New Zealand, the Dairy and Plant Products Group (a division of the Ministry of Agriculture and Forestry-MAF) provides assurance to consumers, both domestic and international, that New Zealand's dairy products are safe and true to label. And, the government mandates that all dairy products must be free of antibiotics, chemical residues and hormones (rBST is illegal in New Zealand). Grazing practices, the treatment of cattle, collection and storage methods, and processing all affect the quality of whey protein. When choosing a whey protein supplement, it is important to keep these points in mind.
Suggested Use: For best results, based on your body weight, training intensity and athletic goals, consume one (1) or more scoops of Athletes-Recovery™ immediately following your workout, training session or competition.

MIXING DIRECTIONS:
SHAKER: In a shaker cup, add 6-8 ounces of your favorite beverage per rounded scoop of Athlete's-Recovery™. Firmly close the shaker cup lid and shake for 15-30 seconds. 
BLENDER: Add 6-8 ounces of your favorite beverage per rounded scoop of Athlete's-Recovery™ to your blender. Firmly close your blender lid and blend for 15-30 seconds, until smooth. You may add ice and blend for an additional 15-30 seconds.
SPOON STIRRED: No shaker or blender? Simply add Athlete's-Recovery™ to a glass filled with the desired amount of cold water, milk, or your favorite beverage. For best flavor, use 12-16 oz of liquid to a 2 scoop serving, or 6-8 oz for a 1 rounded scoop serving use. Stir with a spoon until the powder is completely dissolved (typically under 30 seconds).
STACKING SUGGESTION: Athlete's-Recovery™ may be stacked with our HMB, or used in conjunction with our R.P.G.-IBCAA and AjiPure™ L-Glutamine. For more stacking recommendations, or information on other products beneficial to your training, please visit us at www.millenniumsport.net.  
Allergen Information: Contains Milk, Soy Lecithin. 
Store in a cool, dry place, away from excessive heat or humidity.
Contents are packaged and sold by weight, not volume.
NOTICE: For use as supplemental nutrition.  Do not use as a sole source of nutrition for weight loss or maintenance.
KEEP OUT OF REACH OF CHILDREN!
*These statements have not been evaluated by the Food and Drug Administration.  This product is not intended to diagnose, treat, prevent or cure any disease.
Product FAQ
Supplement Facts
CHOCOLATE - 100% NATURAL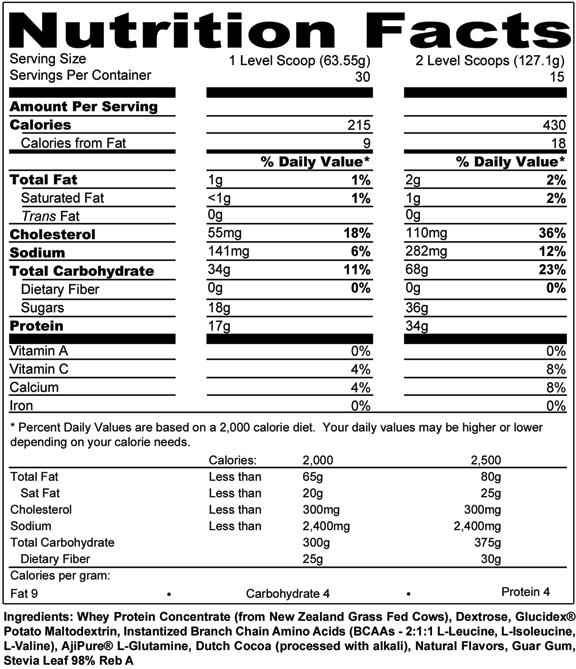 WILD BERRY - 100% NATURAL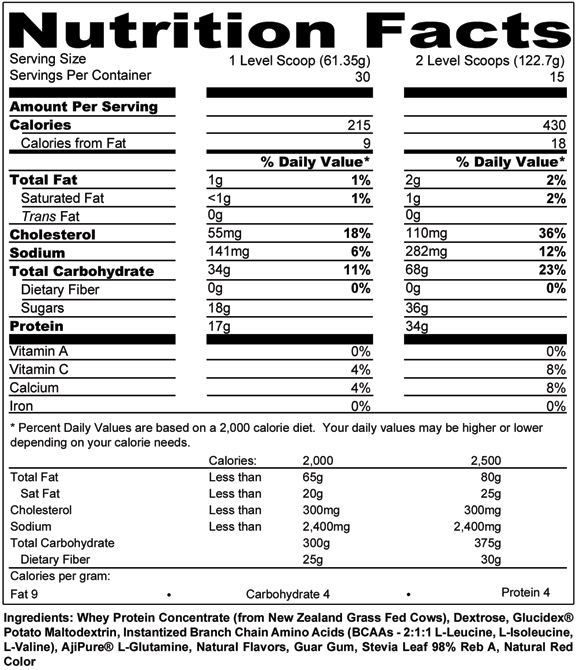 VANILLA - 100% NATURAL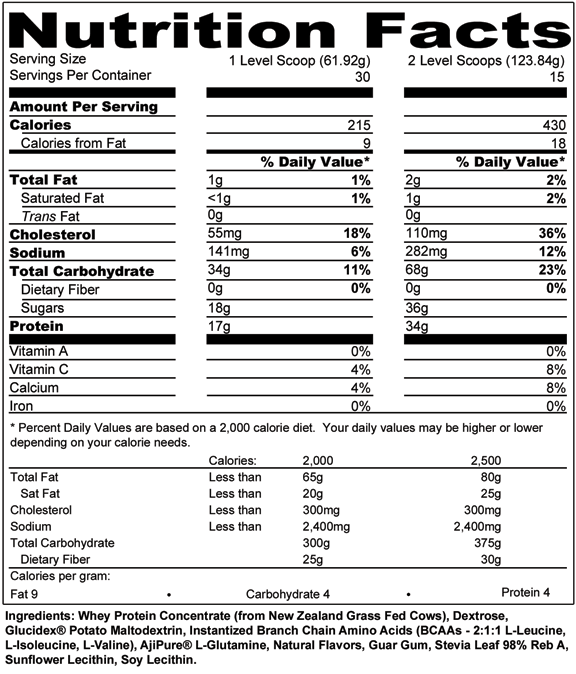 CINNAMON ROLL - 100% NATURAL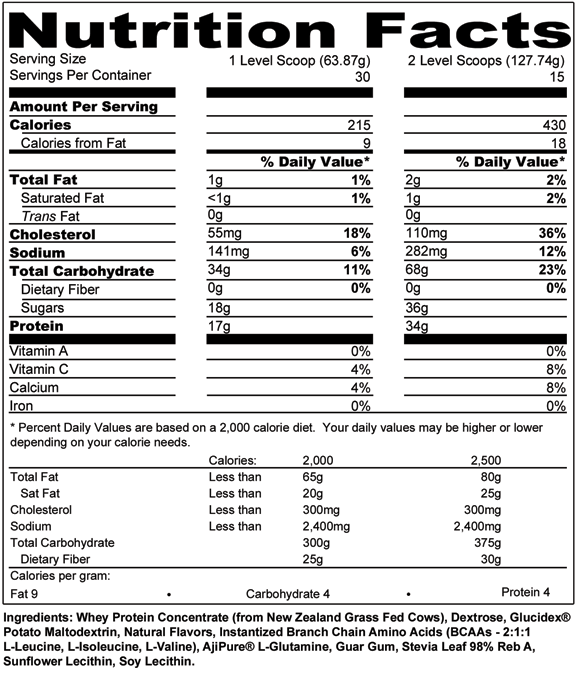 You might also like these...
Related Products