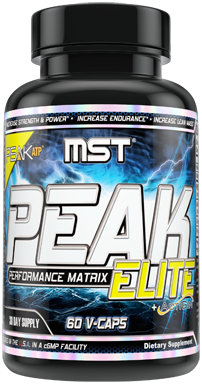 Product Details
PEAK-ELITE PLUS 60™ V-Caps

PEAK-ELITE PLUS™ combines the clinically proven and patented PEAK-ATP® with ActiGin®, to support the physical performance demands of the competitive athlete.*
What is PEAK ATP®?
PEAK ATP® is a clinically validated and patented form of Adenosine 5'-Triphosphate (ATP) Disodium shown to improve body composition and athletic performance by increasing muscular excitability, blood flow and recovery.*
Is ATP naturally occurring in the human body?
ATP is our body's natural energy currency. According to researchers from the University of Leeds, the human body has an ATP pool of just 250g, which is approximately the amount of energy equivalent to a single AA battery. ATP is being constantly used and regenerated in cells via a process known as respiration, which is driven by natural catalysts called enzymes. Each day the human body turns over as much ATP as its own body weight.
How does PEAK ATP® work?
PEAK ATP® helps to optimize athletic performance through three distinct mechanisms of action: 1) ATP increases muscular excitability resulting in significant
gains in strength and power, 2) ATP increases blood flow, resulting in improved oxygen and nutrient delivery to the muscle and 3) ATP is involved in anabolic signaling, resulting in increased lean body mass and muscle thickness.*
What is Muscular Excitability?
Muscular excitability refers to the ability to activate muscle, thereby causing it to contract. The greater the excitability of the muscle the greater its force, velocity, and endurance properties will be. Muscle is excited by the release of calcium into the cell. Calcium serves as the trigger for contraction. Peak ATP® works by increasing and sustaining the amount of calcium available to the muscle, which boosts muscular excitability. The result is the athlete will lift greater weights and produce a greater number of repetitions per set.

How does PEAK ATP® Improve Blood Flow?
Red blood cells release ATP into the blood when muscles are fatigued, causing vasodilation to occur. PEAK ATP® supplementation increases the amount of ATP available in red blood cells. As a result of more ATP being available, significant
increases in blood flow, oxygen delivery and clearance of metabolic waste products such as lactate are obtained.
 Clinically Proven Benefits of PEAK ATP® use include:
Increases Total Strength By 147%* (1a)
Increases Power By 30%* (1b)
Increases Lean Mass By 100%* (1c)
Boosts Muscular Excitability*
Reduces Muscular Fatigue* (2)
Improves Blood Flow Up To 54%* (3)
Enlarges Calcium Pool* (4)
Acceptable For Use By All Athletes (Banned Substance Free)
All PEAK ATP clinical data & information provided by TSI USA (tsiinc.com)
WHAT IS ACTIGIN®?
ActiGin® is an all natural, non-stimulant, perfor­mance-enhancing sports nutrition supplement that has shown in NuLiv Science's one animal and three human clinical trials published in PLOS One in 2015 to improve endurance performance at high-intensity, to buffer destructive oxidative attack on cellular components during vigorous exercise, to enhance adaptation in mitochondria enzyme activity against exercise challenge, and to promote anti-inflammatory shift balance after exercise.
BENEFITS OF ACTIGIN®
 IN THREE (3) HUMAN CLINICAL TRIALS ACTIGIN®:
Increases endurance in high-intensity exercise by 20% at 80% VO2max to exhaustion.
Increases energy catalyst citrate synthase activity by 47%.
Speeds up muscle fatigue recovery by increasing glycogen recovery rate of exercised muscles by 373% at the end of the 3rd hour after a 70% VO2max cycling exercise.
Decreases muscle damage (Creatine kinase) on day 4 after exercise by 69%.
Reduces free radical damage to muscle after exercise (MDA synthesis, an oxidative stress marker) by 44% on day 4 after high intensity exercise.
Reduces inflammation by decreasing IL-6 synthesis, a pro-inflammatory cytokine, by 35% on day 4 after high intensity exercise.
All ActiGin Clinical data provided by NewLiv Science. Reference at PLOS ONE (Public Library of Science) http://dx.doi.org/10.1371/journal.pone.0116387
 Suggested Use:  As an adult dietary supplement, consume one serving (two (2) V-Caps) approximately 30-60 minutes prior to exercise on an empty stomach. Note: Dosing 60-90 minutes pre-workout may benefit those with slow digestion, or those who wish to take close to meal time.  On non-training days, consume one serving (two (2) V-Caps) approximately 20-30 minutes prior to breakfast. For best results use daily for a minimum of 12 weeks. 
 Stacking Suggestions: PEAK-ELITE PLUS™ is formulated to stack well with all of our products, but is especially effective stacked with our CRE-O2™, Cordygen-NanO2 ELITE™ or Citruvol-ELITE™.
 Warning: As with any dietary supplement, consult your physician prior to use, especially if you suffer from any medical condition. Do not use is pregnant or nursing.  Do not use if you are allergic to any ingredient found in this product.  KEEP OUT OF REACH OF CHILDREN
 Notes: Store in a cool, dry place away from direct sunlight. Natural color variation is normal.
To report an adverse event call 1-800-249-7918.
 *These statements have not been evaluated by the Food and Drug Administration. This product is not intended to diagnose, treat, prevent or cure any disease.
 PEAK ATP® is a registered trademark of TSI USA, Inc. and is used under license. Clinical references provided by TSI USA, Inc.
ActiGin is a registered trademark of NuLiv Science and is used under license.  All ActiGin clinical references and information is provided by NuLiv Science. Reference at PLOS ONE (Public Library of Science) http://dx.doi.org/10.1371/journal.pone.0116387
PEAK-ATP References:
1. Wilson JM et al. Muscular Adaptations and Safety of 12 Weeks of ATP Supplementation in Trained Men. published. (a-c) Percent ATP improvement over placebo: (a) ATP 55.3 kg, Placebo 22.4 kg (b) ATP 796 watts, Placebo 614 watts (c) ATP 4.0 kg, Placebo 2.1 kg (d) Percent ATP improvement over baseline: ATP 600.9 ml/min immediately after exercise after one week, baseline 391.0 ml/min.
2. Rathmacher, JA et al. Adenosine-5'-triphosphate (ATP) supplementation improves low peak muscle torque and torque fatigue during repeated high intensity exercise sets. J Int Soc Sports Nutr 2012, 9:48.
3. Lowery RP et al. Oral ATP administration improves blood flow response to exercise in an animal model and in resistance trained athletes. J Int Soc Sports Nutr 2013, in press.
4. Endo M. Calcium-induced calcium release in skeletal muscle. Physiol Rev. 2009, 89(4):1153-1176.
Product FAQ
Supplement Facts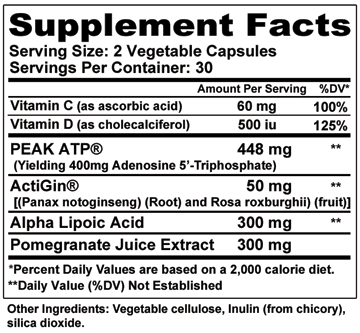 You might also like these...
Related Products