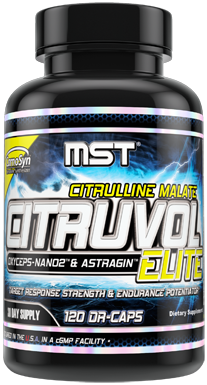 Product Details
 Citruvol-ELITE™
Target Response Pre-Workout & Endurance Potentiator*
Citruvol-ELITE™ combines the powerful ingredients Citrulline Malate, Beta-Alanine (CarnoSyn™), OxyCeps-NanO2™ and AstraGin™ to create a powerful pre-workout/pre-endurance activity matrix.  Citruvol-ELITE™ is now packaged in a delayed release veggie capsule to further enhance bioavailability by providing protection against ingredient destruction in stomach acid. *
OxyCeps-NanO2™ is added to support oxygen (02) utilization and ATP production. OxyCeps-NanO2™ is our super potent, 16:1 Cordyceps sinensis hot water extract (equivalent to 3200mg whole herb/per serving) in an ultra-micronized form (>38% nano-particle) for maximum absorption and performance.
AstraGin™ is a patent pending, all-natural compound composed of highly fractionated Astragalus and Panax Notoginseng. In over 12 different in-vivo and in-vitro studies, AstraGin™ has demonstrated that it can significantly improve the absorption of critical nutrients including amino acids (by up to 67%) and vitamins (by up to 50.4%) as well as increasing ATP production by 18%.  AstraGin™ has been shown to increase absorption of Citrulline and Beta-Alanine by 45% & 26% respectively. *
Suggested Use: For best results take 4-6 capsules 60-90 minutes prior to weightlifting, cardio or other  endurance activity on an empty stomach or with a simple carbohydrate beverage. For best results avoid taking with protein. Best when taken daily. Some users may experience a harmless prickling, tingling or flushing sensation initially from beta-alanine supplementation. This is normal and short lived after dosing.
** Citruvol-ELITE™ is formulated & manufactured without the use of any banned substances.  Tested Gluten Free!
Warning: For use by healthy adults only.  If pregnant, nursing or have any known medical condition including but not limited to heart, lung, liver or kidney disease, consult your physician or healthcare provider prior to use.  KEEP OUT OF REACH OF CHILDREN.
*These statements have not been evaluated by the Food and Drug Administration. This product is not intended to diagnose, treat, prevent or cure any disease.  
*Individual results will vary.
Product FAQ
Supplement Facts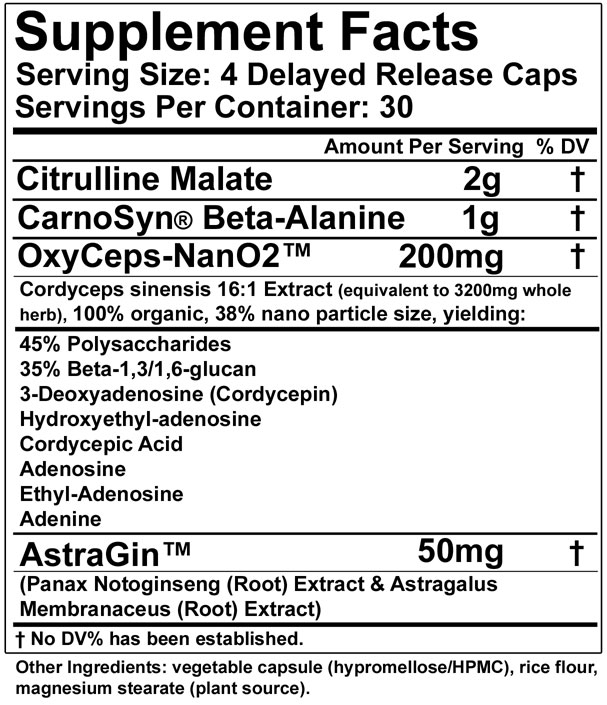 You might also like these...
Related Products