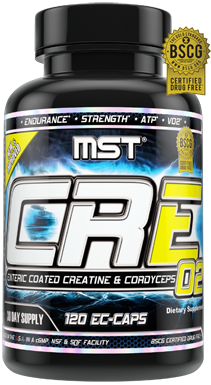 Product Details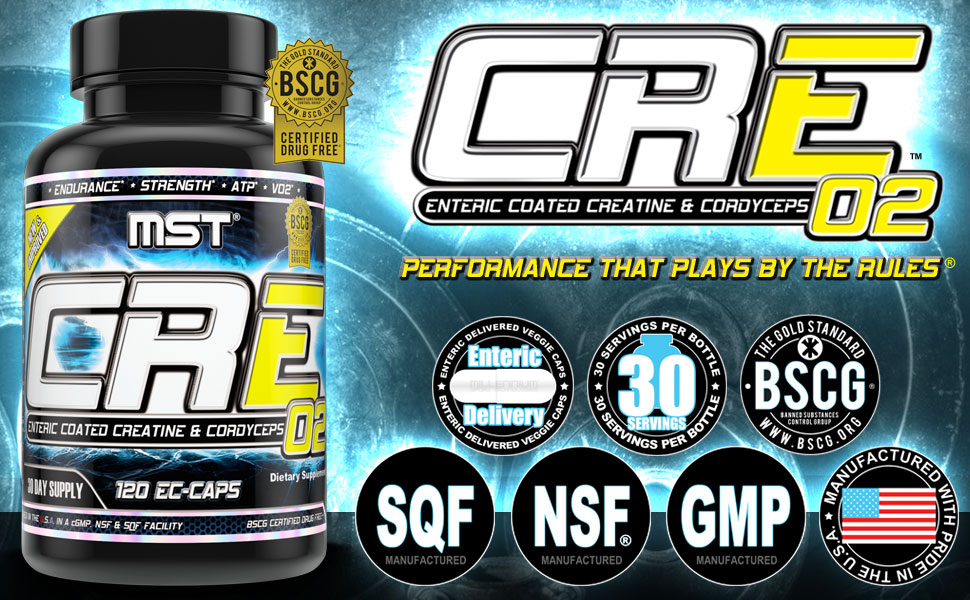 CRE-02™ is the world's first enteric coated, pH delivered, stomach stable creatine, ATP and Cordyceps matrix. Enteric delivery allows the ingredients in CRE-02™  to bypass destruction & byproduct conversion in the acidic environment of the stomach, remaining 100% intact for rapid diffusion and super charged absorption in the more alkaline environment of the small intestine. * No destruction or conversion in the digestion and assimilation process means big gains without the typical creatine side effects!  CRE-O2™ is truly the new Gold Standard in creatine supplementation!*
This new formulation does away with the large, bulky tablets and excipients (tablet binders) in favor a new highly acid resistant enteric capsules.  These enteric vegetable capsules take the place of the previous spray-coating system while providing the same fantastic function. 
New Enteric Delivered Veggie Capsules (Easy To Swallow)
500mg of Our Exclusive OxyCeps-ATP Cordyceps
BSCG "Certified Drug Free" **
Support Strength & Endurance*
Jiaogulan & Rhodiola Enhanced
Our Top Selling Creatine!
**CRE-O2™ proudly participates in the BSCG's "Certified Drug Free" program. Please check the BSCG's website for certified lot #'s at the link below. BSCG Millennium Sport Technologies
CRE-02™ contains zero wheat, starch, sugar, egg, milk, soy, fish, artificial colors, flavors or sweeteners. Tested Gluten Free
Suggested Use: Training Days - For best results take four  (4) enteric capsules 120 minutes before weightlifting or endurance activity, preferably on an empty stomach. Non-Training Days: Continue taking four (4) enteric capsules on non-training days.  Athletes over 200 pounds may take 5 to 6 EC-Caps daily if desired.  Note: If you train in the early morning you may take CRE-02™ prior to bed.
Stacking Suggestions:  CRE-O2™ may be stacked with our NitroCeps-ELITE™, PEAK-ELITE, Cordygen5™, Cordygen-VO2 ULTRA™, Cordygen-NanO2, Cordygen-NanO2 ELITE as a pre-workout.  If stacking with other cordyceps containing products, please reduce the dosage of the other cordyceps and use CRE-O2™ at its full dosage.
Warning: This product is only intended to be consumed by healthy adults 18 years of age or older. Consult your physician prior to use, especially if you have any existing medical condition. Do not use if you are pregnant, nursing or wish to become pregnant. Do not use if you are allergic to any ingredient in this product.
Store in a cool, dry place. Excess heat & humidity can damage this product. Keep out of reach of children. 
*These statements have not been evaluated by the Food and Drug Administration. This product is not intended to diagnose, treat, prevent or cure any disease.
References
Zhu, J.S., Halpern, G.M., and Jones, K. (1998): The Scientific Rediscovery of an Ancient Chinese Herbal Medicine: Cordyceps sinensis. Part I. Journal of Alternative and complementary Medicine 4(3), pp 289-303.
Zhu, J.S., Halpern, G.M., and Jones, K. (1998): The Scientific Rediscovery of a Precious Ancient Chinese Herbal Regimen: Cordyceps sinensis. Part II. Journal of Alternative and complementary Medicine 4(4), pp 429-457.
Mizuno T. (1999): Medicinal effects and utilization of Cordyceps (Fr.) Link (Ascomycetes) and Isaria Fr. (Mitosporic Fungi) Chinese Caterpillar Fungi, "Tochukaso" (Review). International Journal of Medicinal Mushrooms 1 (3), pp 251-261.
Xiao Y., Huang X.Z., Chen G.,Wang M.B., Zhu J.S., Cooper C.B.: Increased Aerobic Capacity in Healthy Elderly Humans given fermented Cordyceps Cs-4: a Placebo controlled Trial. Ann. Meeting American College of Sports Medicine, Seattle, WA, June 3-5, 1999.
Hunan Journal of Medicine and Herbology 1991 7(2): 56
Kimura, Y. Okuda, J. Arichi, S. and Takemoto, T. &ldquoEffects of Crude Saponins of Gynostemma Pentaphylla on Lipid Metabhoism.&rdquo Japan: Shoyakugaku Zasshi 37 (3), 1984.)
Jiaogulan (Gynostemma), China's Immortality Herb, Dr. Jialiu Micvhael Blumert.
Peng Hongfu, Study of Astragalus and Hoelen Combination for preventing acute mountain sickness, Medical Journal of Chinese People's Liberation Army 1982; 7(3): 135–138.
Him-che Yeung, Handbook of Chinese Herbs and Formulas, vol. 1, 1985 Institute of Chinese Medicine, Los Angeles, CA.
Brown RP, Gerbarg PL, Ramazanov Z. Rhodiola rosea: a phytomedicinal overview. Herbalgram. 2002;56:40-52.
Moller P, Bergstrom J, Furst P, Hellstrom K. Effect of aging on energy-rich phosphagens in human skeletal muscles. Clin Sci (Lond). 1980 Jun;58(6):553-5.
McCully K, Posner J. Measuring exercise-induced adaptations and injury with magnetic resonance spectroscopy. Int J Sports Med. 1992 Oct;13 Suppl 1S147-9.
Adamchuk LV, Salnik BU. Effect of Rhodiola rosea extract and piridrol on metabolism of rats under high muscular load. Proceedings Institute of Cytology of Russian Academy of Science. 1971;89-92.
Abidov M, Crendal F, Grachev S, Seifulla R, Ziegenfuss T. Effect of extracts from Rhodiola rosea and Rhodiola crenulata (Crassulaceae) roots on ATP content in mitochondria of skeletal muscles. Bull Exp Biol Med. 2003 Dec;136(6):585-7.
Spasov AA, Wikman GK, Mandrikov VB, Mironova IA, Neumoin VV. A double-blind, placebo-controlled pilot study of the stimulating and adaptogenic effect of Rhodiola rosea SHR-5 extract on the fatigue of students caused by stress during an examination period with a repeated low-dose regimen. Phytomedicine. 2000 Apr;7(2):85-9.
Shevtsov VA, Zholus BI, Shervarly VI, et al. A randomized trial of two different doses of a SHR-5 Rhodiola rosea extract versus placebo and control of capacity for mental work. Phytomedicine. 2003 Mar;10(2-3):95-105.
Zhu BW, Sun YM, Yun X, et al. Reduction of noise-stress-induced physiological damage by radices of Astragali and Rhodiolae: glycogen, lactic acid and cholesterol contents in the liver of the rat. Biosci Biotechnol Biochem. 2003 Sep;67(9):1930-6.
Kucinskaite A, Briedis V, Savickas A. Experimental analysis of therapeutic properties of Rhodiola rosea L. and its possible application in medicine. Medicina (Kaunas.). 2004;40(7):614-9
Maslova LV, Kondrat'ev BI, Maslov LN, Lishmanov I. The cardioprotective and antiadrenergic activity of an extract of Rhodiola rosea in stress. Eksp Klin Farmakol. 1994 Nov;57(6):61-3.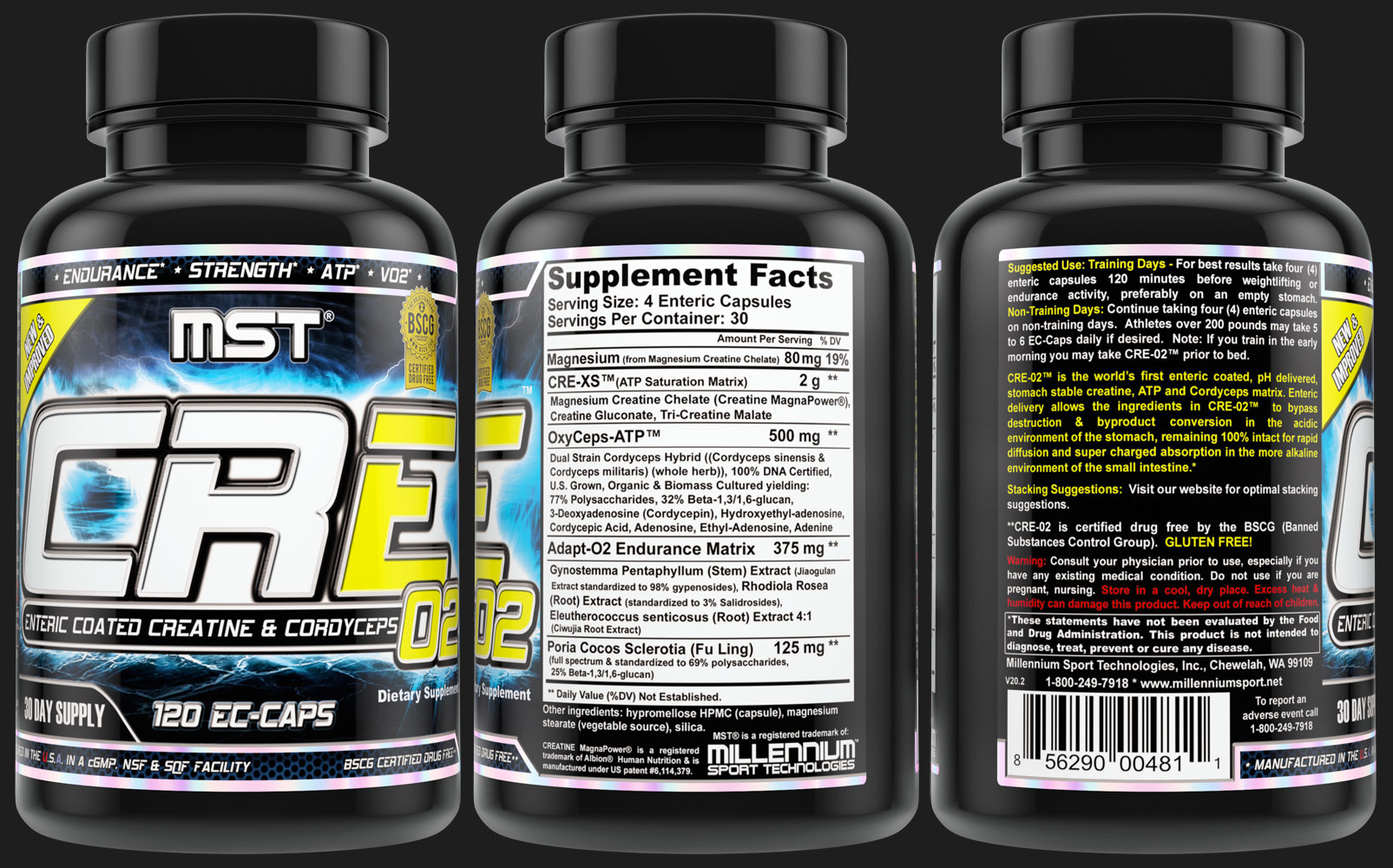 Product FAQ
Supplement Facts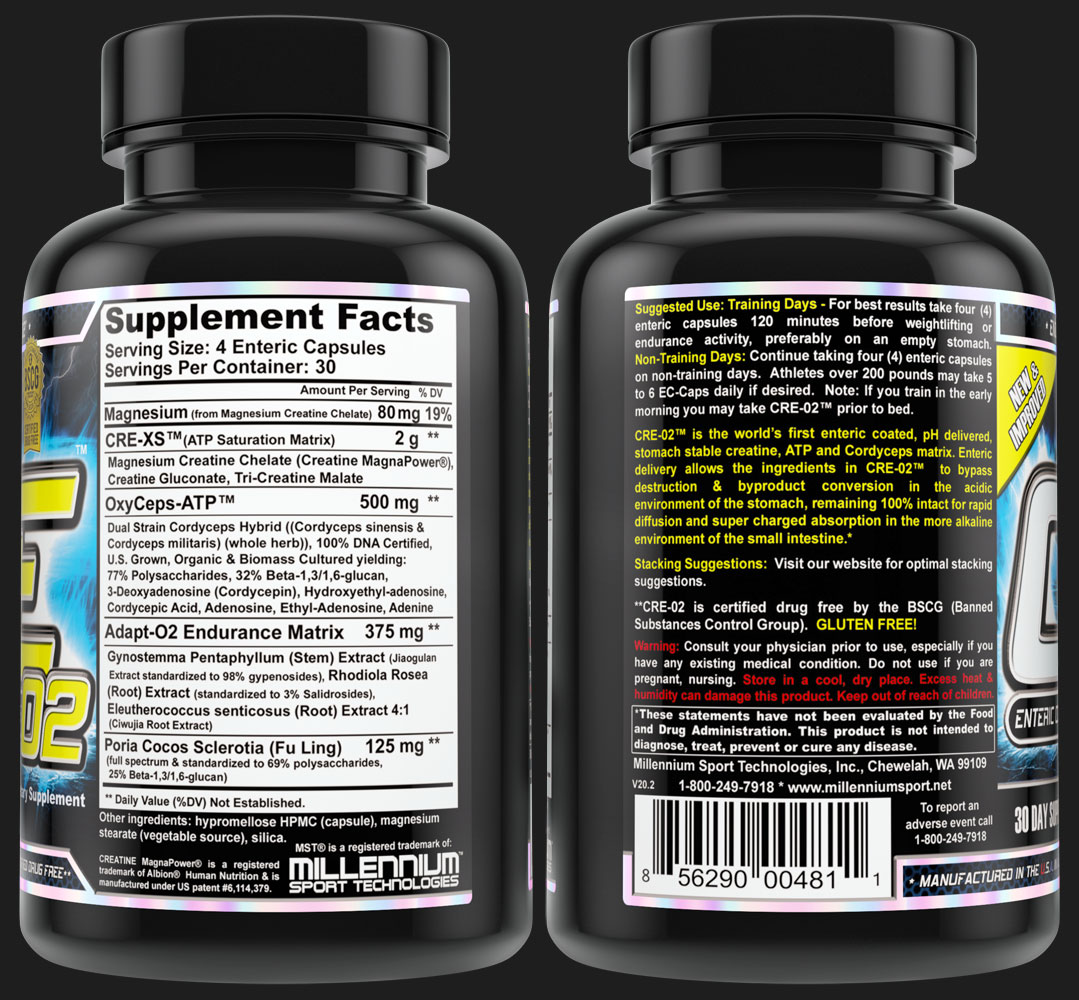 You might also like these...
Related Products