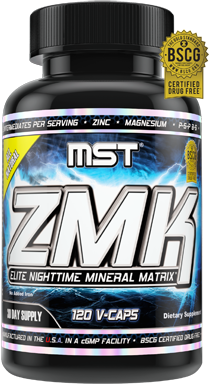 Product Details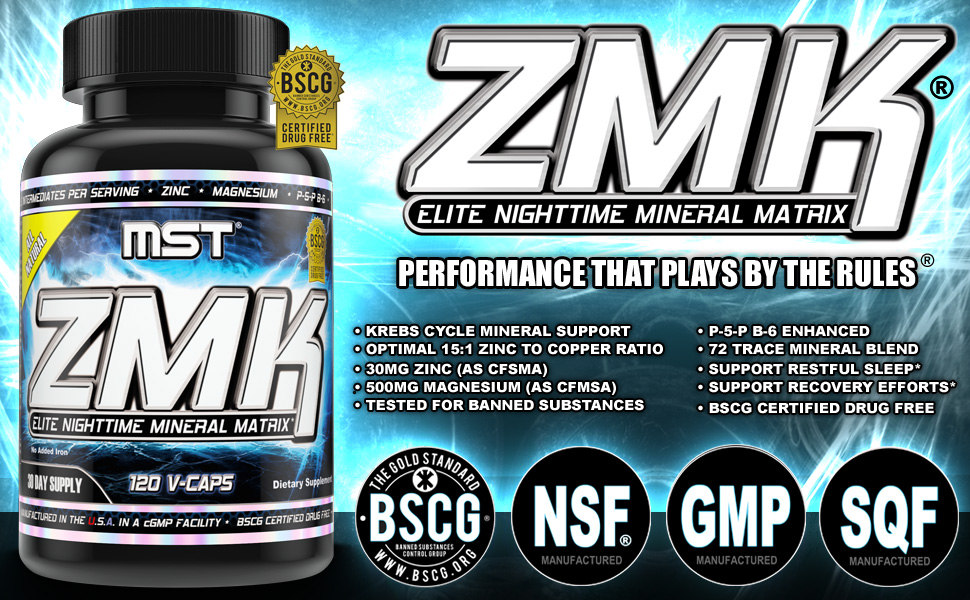 ZMK®
"PERFORMANCE THAT PLAYS BY THE RULES"®
ZMK® is an athlete's complete multi-mineral matrix formulated to maximize recovery while supporting healthy hormone levels, sleep, pH, cellular energy & cardiovascular health.*  ZMK® is the only Krebs Cycle bonded Zinc and Magnesium product of its kind and incorporates a full spectrum Krebs Cycle mineral support blend. ZMK® is formulated specifically for the nutritional needs of athletes.  All of the minerals in ZMK® are bound to Krebs Cycle Intermediates Citrate, Fumarate, Malate, Succinate and Alpha-Keto-Glutarate. These organic acids are responsible for energy production (ATP) within every cell of the body. Minerals bound to these Krebs Cycle Intermediates show superior bioavailability & are better absorbed & utilized.*
Minerals To Support Healthy Testosterone Levels*
Minerals To Support Quality REM Sleep*
Minerals To Maximize Recovery Efforts*
Minerals To Support Healthy Immune Function*
Every Mineral Is Bound To Krebs Cycle Intermediates
Optimal 15:1 Zinc to Copper Ratio*
72 Trace Mineral Blend
Minerals To Support Cardiovascular Health*
Every Batch Is Tested For Banned Substances
Every Batch Is BSCG "Certified Drug Free" **
ZMK® is an advanced nighttime Krebs intermediate bound mineral formula. Minerals are assimilated more efficiently at night and potentiate the body's natural release of important hormones such as testosterone. Without sufficient intake of key minerals, levels of these vital hormones may fall, leading to poor recovery and performance.*
We all know the benefits of supplementing with Zinc and Magnesium as most of us have used other nighttime zinc/mag products with success.  ZMK® differs from other nighttime zinc/mag products in many different and beneficial ways.
Krebs Cycle Intermediates are organic acids that are crucial to energy production within every cell of our bodies.  Citrate, malate, fumarate, succinate and alpha keto glutarate all contribute as intermediates in the vital Krebs cycle (citric acid cycle). ZMK® incorporates 3078mgs of Krebs cycle intermediates bound to Magnesium, Zinc, Selenium, Copper, Manganese, Chromium, Molybdenum, Potassium, Vanadium and Boron.  This not only bolsters the bioavailability of the minerals but also enhances the effects and efficiency of the P-5-P vitamin B-6 for optimal assimilation and ATP production.
Pyridoxal-5 Phosphate (P5P-active, co-enzyme B6) is the active, co-enzyme form of B6. Most B-6 included in nighttime mineral supplements is pyridoxine which must be converted in the liver to Pyridoxal-5 Phosphate to be properly utilized. Pyridoxal-5-Phosphate is necessary for neurotransmitter balance, immune function, amino acid and mineral absorption and metabolism.  Deficiency may cause a decrease in mineral absorption and utilization. Pyridoxal-5 Phosphate is utilized by over 60 enzymes, and is also essential for protein, fat and carbohydrate metabolism. P-5-P was added to ZMK® to maximize absorption of the Krebs bonded minerals. Since P-5-P is phosphorylated it also contributes to the active production of ATP.*
A naturally occurring 72 trace mineral blend is also incorporated into ZMK®.  It's difficult to comprehend the importance of minerals and trace minerals for the overall health and well being of our bodies. Trace minerals are the catalysts and cofactors for the production, conversion and utilization of countless enzymes, vitamins and other micro and macro nutrients our bodies use for developing and maintaining good health.  If there is a group of nutrients an athlete is chronically deficient in it's trace minerals. The trace minerals contained in ZMK® also help to further increase the already impeccable bioavailability of the Krebs cycle bonded minerals.
** ZMK® is proudly made in the USA in a cGMP facility. ZMK® is formulated & manufactured without the use of banned substances and proudly participates in the BSCG's "Certified Drug Free" program. Please check the BSCG's website for certified lot #'s at the link below. BSCG Millennium Sport Technologies
Contains ZERO wheat, soy, sugar, starch, egg, milk, nuts, fish, whey or salt. TESTED GLUTEN FREE!
Suggested Use: As a dietary supplement take four ZMK® capsules 30-60 minutes prior to bedtime without calcium.
Stacking Suggestion: ZMK® may be stacked with MVP-365™, MycoGreen™,  MST® PrimaVie®, RPG-BCAA™, MST® Testofen®, MST® Libifem®, or our other performance products.
Warning: As with any nutritional supplement use, consult your healthcare practitioner prior to use, especially if you are being treated for any condition or disease, or taking prescription medication.  Consult your physician prior to using if you are pregnant or nursing. KEEP OUT OF REACH OF CHILDREN.
To report an adverse event call 1-800-249-7918
*These statements have not been evaluated by the Food and Drug Administration. This product is not intended to diagnose, treat or cure any disease.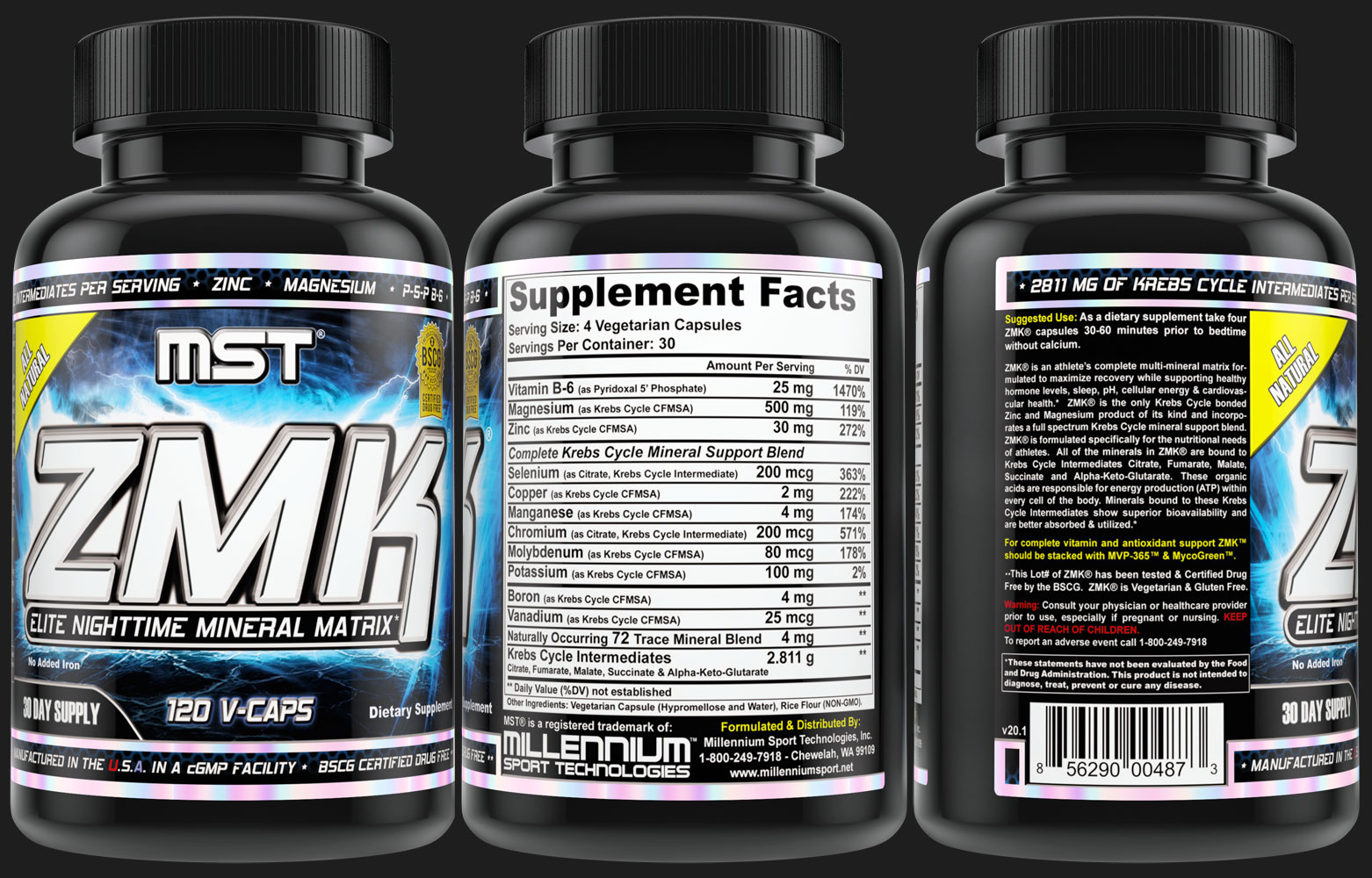 Product FAQ
Supplement Facts
ZMK 120 V-Caps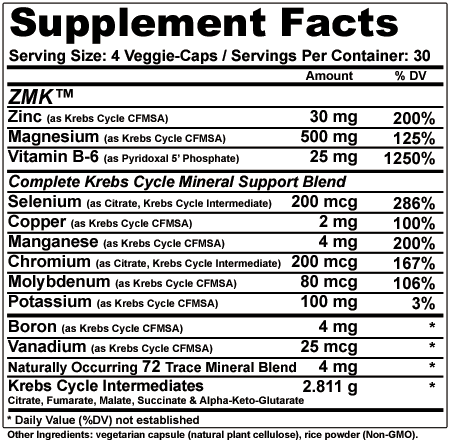 ZMK 240 V-Caps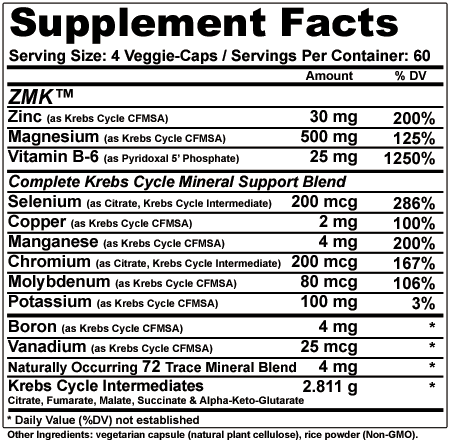 You might also like these...
Related Products