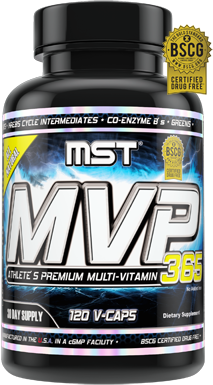 Product Details
MVP-365™ Now with Methylfolate & 1000iu Vitamin D3!
MVP-365™ is a complete multiple vitamin specifically formulated for the needs of athletes. MVP-365™ incorporates the most bioavailable forms of key nutrients, including a high potency co-enzyme b-complex, L-5 Methyltetrahydrofolate, mineral ascorbate vitamin-C, Krebs Cycle intermediates bound minerals, adaptogens, greens, high potency food sourced antioxidants & phytonutrients. MVP-365™ provides optimal nutrient support and antioxidant protection to combat daily stress and exercise induced free radical damage caused by intense training.*
BSCG Certified Drug Free!
Formulated for Athletes
1000iu (25mcg) Vitamin D3
Co-Enzyme B-Complex
Now with Methylfolate (as L-5 Methyltetrahydrofolate)
Mineral Ascorbate Vitamin C
Krebs Intermediate Bound Minerals
Greens & Adaptogens
Food Sourced Antioxidants & Phytonutrients
100% Natural & Vegetarian
MVP-365™ is proudly made in the USA in a cGMP facility and is formulated & manufactured without the use of any banned substances. Contains ZERO wheat, soy, sugar, starch, egg, milk, nuts, whey, salt, artificial ingredients or excipients.  
Suggested Use: Take two veggie-capsules in the morning with breakfast and two veggie-capsules with lunch.
Stacking Suggestion: When taken together, MVP-365™ and ZMK™ combine to create the most complete and effective athlete nutrient support protocol available. May also be stacked with MycoGreen™ and KRILL-500™ for added daily support.*
Warning: This product is intended for use by healthy adults. If you are pregnant, may become pregnant, or nursing, consult your physician before use. Do not use if you are allergic to any ingredient or component in this product. Keep out of reach of children.
Store in a cool dry place away from direct sunlight. To report an adverse event call 1-800-249-7918.
*These statements have not been evaluated by the Food and Drug Administration. This product is not meant to diagnose, treat or cure any disease.
Product FAQ
What is the best way to stack MVP-365™ with ZMK™?
Multi Vitamin Protocol: Take two MVP-365™ Veggie Caps in the morning with breakfast and two capsules with lunch. 
Multi Mineral Protocol: Take 4- ZMK™ Veggie Caps 30-60 minutes prior to bedtime without calcium.  
You may also benefit by adding MycoGreen™ and KRILL-500™ to you stack.   
Supplement Facts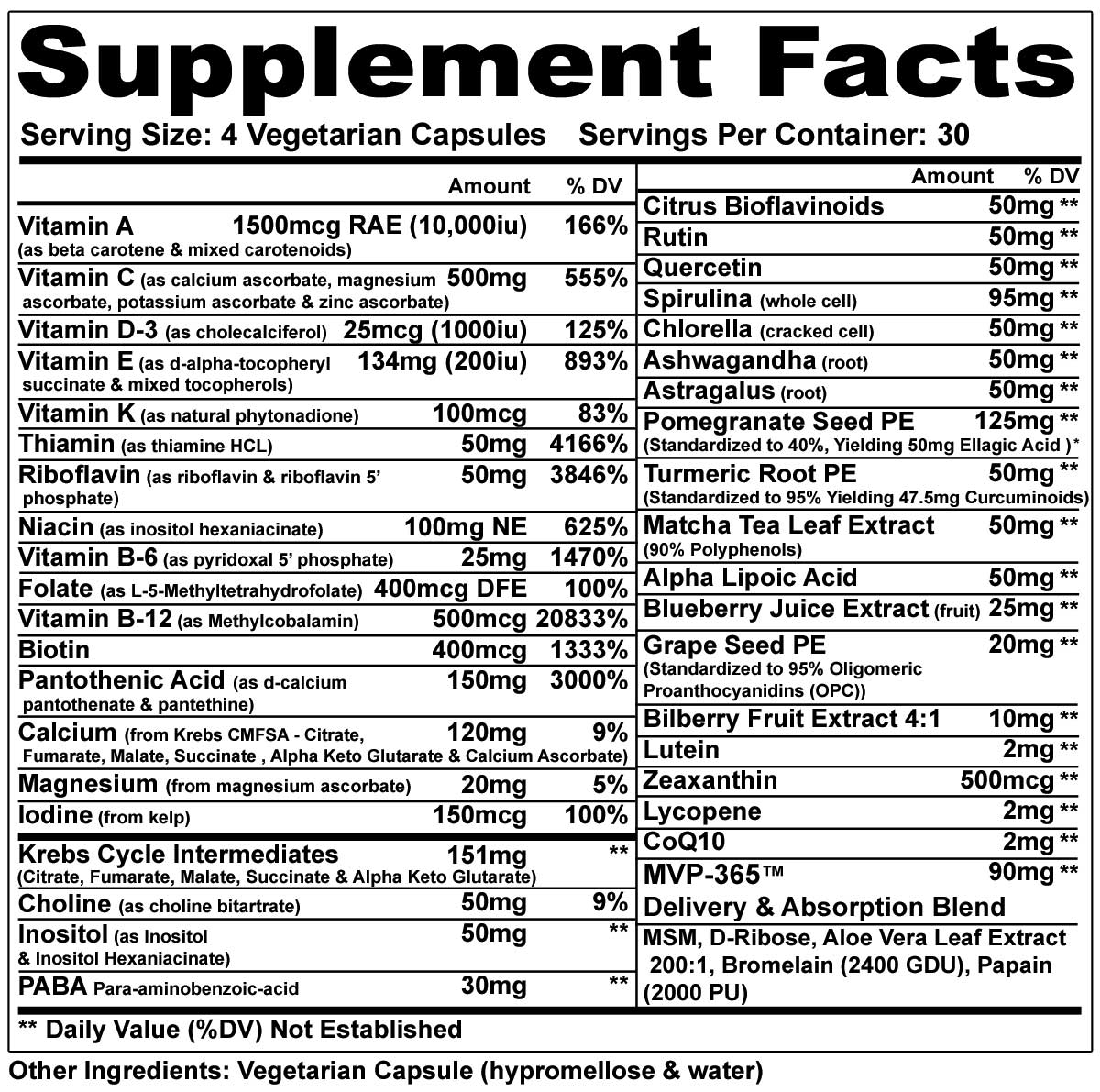 You might also like these...
Related Products