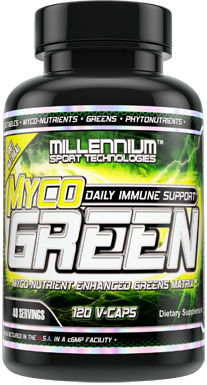 Product Details
As athletes, we are bombarded daily by environmental pollutants, toxins and exercise induced free radicals that compromise cell integrity, robbing us of our ability to perform and recover optimally. Lactic acid and ammonia buildup in the muscle cells creates an acidic environment which further weakens cell membranes often resulting in cell death, acidosis, immune system fatigue and slow recovery.*
MycoGreen™ is a highly potent and effective 100% vegetarian blend of Organic Greens, Myco-Nutrients, Glyconutrients, Phytonutrients, Sea Vegetables and Whole Food Antioxidants for nutritional support and assistance in daily cleansing and detoxification at the cellular level. MycoGreen™ may help you combat physical fatigue while supporting proper pH, cell integrity, immune system stability and optimal recovery.*
Athletes put incredible amounts of stress on their bodies on a daily basis which requires higher levels of comprehensive support to help ward off illness and over-training. MycoGreen™ contains 100% organic, polysaccharide and Beta 1,3/1,6 glucan rich Maitake (Grifola frondosa), Cordyceps sinensis, Agaricus Blazei, Inonotus obliquus (Chaga) and Astragalus to support daily immune and adrenal function.*
Mycogreen™ is also enhanced with prebiotics, digestive enzymes and MSM to support cellular detoxification and cell permeability while ensuring proper digestion, absorption and utilization of nutrients.*
MycoGreen™ Features:
* 100% Organic Greens
* 100% Organic Myco-Nutrients
* Glyconutrients
* Beta 1,3/1,6 Glucans
* Whole Food Antioxidants
* Digestive Enzyme Support
* Pre-Biotics
* Omega 3,6 & 9
* Sea Vegetables
* Lab Tested Gluten Free! Contains less than 3ppm!
**MycoGreen™ is proudly made in the U.S.A in a cGMP facility and is formulated and manufactured without the use of any banned substances. Contains ZERO soy, sugar, starch, egg, milk, nuts, whey, salt, artificial colors, artificial flavors, preservatives, binders or fillers. 
Suggested Use: Take three capsules one to four times daily with meals as needed. MycoGreen™ may be taken post workout to aid in the reduction of lactic acid and support recovery.
Stacking Suggestion: MycoGreen™ may be stacked with MVP-365™,  ZMK™ and KRILL-500™ for additional nutritional & recovery support.
Warning: This product is intended for use by healthy adults. If you are pregnant, may become pregnant, or nursing, consult your physician before use. Do not use if you are allergic to any ingredient or component in this product. Keep out of reach of children.
Allergen Warning: Contains Wheat Grass Juice Powder
Store in a cool dry place away from direct sunlight. To report an adverse event call 1-800-249-7918.
*These statements have not been evaluated by the Food and Drug Administration. This product is not meant to diagnose, treat or cure any disease.
Product FAQ
Supplement Facts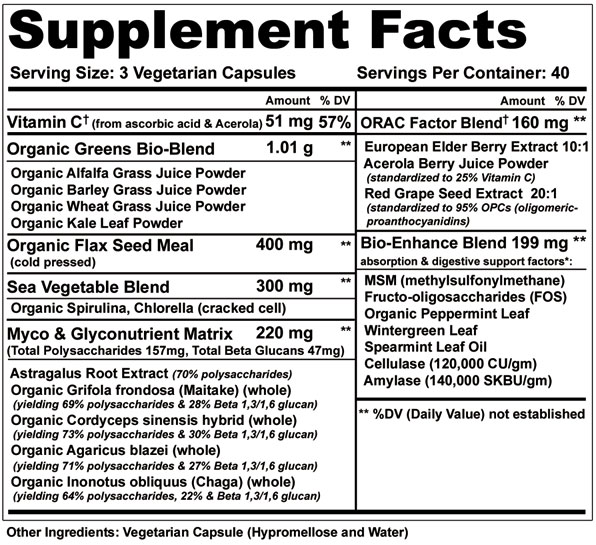 You might also like these...
Related Products