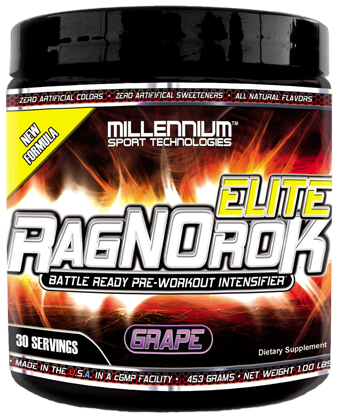 Product Details





RagNOrok-ELITE™


How much active ingredient is in a serving of your pre-workout product?  3 grams?  5 grams?  8 grams if you're lucky, right?  RagNOrok-ELITE™ is our new, battle ready, workout altering, training intensifier that sports over 13 grams of active and impactful ingredients per serving.  RagNOrok-ELITE™ is a pre-workout powerhouse on it's own level and crosses over into all genre of sport! *
RagNOrok-ELITE™ is formulated to support strength, intramuscular carnosine levels, ATP, endurance, focus and drive, all while providing electrolytes and antioxidants. *
AstraGin™ is a 100% natural food ingredient that has shown in cell, animal, and human studies to significantly improve the absorption of many essential life supporting and health promoting nutrients, such as amino acids, glucose, and vitamins into human cells. By allowing a greater amount of these nutrients to pass from the blood stream into the cells, AstraGin™ provides for truly improved bioavailability.*  AstraGin™ has shown to increase absorption of Arginine by 67%, Agmatine by 36%, Creatine by 33% and Beta-Alanine by 26%.
Enhanced with Our Exclusive OxyCeps-NanO2™
Enhanced with AstraGin™
Now with AGMASS™ Agmatine Sulfate and Nubetaine™ Natural Betaine
Massive 13+ Grams of Impactful Ingredients Per Serving
Zero Artificial Sweeteners!
Zero Artificial Flavors, Colors or Dyes!
Carb Free and Sugar Free
Available in Caffeinated (200mg Per Serving) Or Caffeine Free Versions
*These statements have not been evaluated by the Food and Drug Administration.  This product is not intended to diagnose, treat, prevent or cure any disease.
**Formulated and manufactured without the use of any banned substances.
AstraGin PATENT & REFERENCE
US patent US8,197,860 , applications US13/444,765, US13/444,770, US12/345,218, US11426064
China patents CN200610090113.0, CN200610090114.5,
CN200910178493.7, CN200910178492.2
Taiwan patents I271195, I317280
1. S.A.Adibi, et al. The kinetics of amino acid absorption and alteration of plasma composition of free amino acids after intestinal perfusion of amino acid mixture. The American Journal of Clinical Nutrition, 1967, Vol. 20, No.1, Jan., p.24-33.
2. P.J. Reeds. The gut and amino acid homeostasis. Nutrition, 2000, Vol. 16, No. 7/8, p,666-668.
3. Z.Q. Hei, et al. Protective effect of Astragalus membranaceus on intestinal mucosa reperfusion injury
after hemorrhagic shock in rats. World Journal of Gastroenterology. 2005, Vol. 11(32), p.4986-4991.
4. G.A.M. Ten Have, et al. Absorption Kinetics of
Amino Acids, Peptides and Intact proteins. International
Journal of Sports Nutrition and Exercise Metabolism. 2007,
17, S23-S36.

5. T.C. Chang, et al. Effect of Ginsenosides on Glucose Uptake in Human Caco-2 Cells Is Mediated through Altered Na+/Glucose Cotransporter 1 Expression. J. Agric. Food Chem. 2007, vol. 55, p.1993-1998.

6. S.F. Huang, et al. Effect of Ginsenoside Rb1 on
Glucose Uptake and Expression of Glucose Transporters in
Animal Cells. Adaptation Biology and Medicine. 2011, vol.6, p.447-460.


Product FAQ
what sets ragnorok-elite apart from the competition?
RagNOrok-ELITE contains a massive 13+ grams of active and impactful ingredients per scoop/serving.  We're talking ingredients in amounts that have an actual impact on your training and performance in a single scoop serving.* RagNOrok-ELITE also gives you the option of a caffeine free version for those who are watching their stimulant intake or training in the evening.
Most pre-workout products rip you off! Once you peel away the sugar, carbs, flavoring system and fluff you're typically left with a 3 to 5 gram serving...8 grams if you are lucky.  The competition calls these pixie dust serving size product "ultra or super concentrated".  When did the definition of "diluted" change to "concentrated"?  Not only is the typical pre-workout completely watered down, but they typically contain way too much stimulant content in an attempt to make you feel like it's actually doing something for your performance.  Don't be fooled!   
What is AstraGin™?
AstraGin™ is a patent pending, all-natural, plant based compound composed of highly fractionated Astragalus and Panax Notoginseng. In over 12 different in-vivo and in-vitro studies, AstraGin™ has demonstrated that it can significantly improve the absorption of critical nutrients.**
In multiple pre-clinical studies, AstraGin™ has shown that it can increase: **
AstraGin™ has shown (in vitro) to increase absorption of the Arginine by 67%, Agmatine by 36%, Creatine by 33% and Beta-Alanine by 26%. *
Vitamins absorption such as folate by 50.4%**
Glucosamine absorption by 41.9%**
ATP production by 18%**
** Information provided by NuLive Science
Supplement Facts
RagNOrok-ELITE™ Crushing Punch 459 Grams (30 Servings)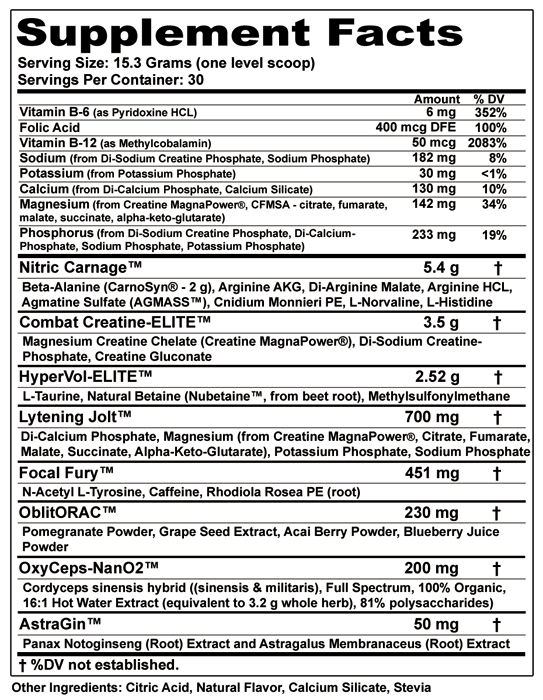 RagNOrok-ELITE™ GRAPE - 453 Grams (30 Servings)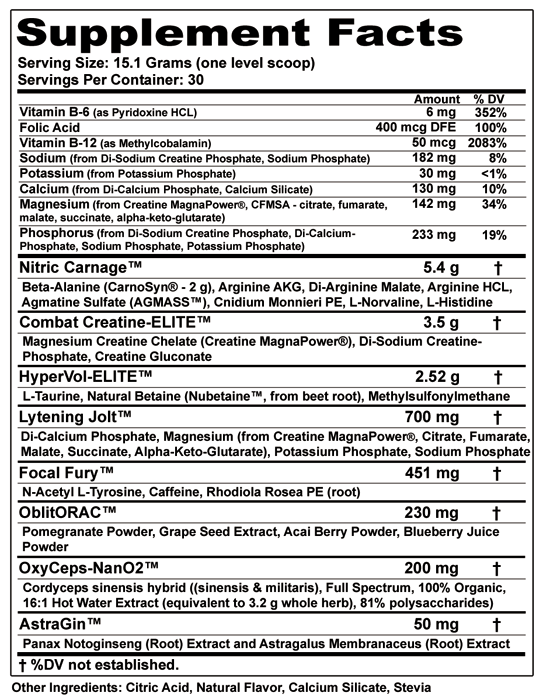 You might also like these...
Related Products